Fully immersed in fostering the exchange of research and advancing science, the WGA is committed to being the most important source of specialist knowledge for ophthalmologists and other healthcare providers related to glaucoma.
That is why the WGA offers free access to the Educational Portal, which contains recorded sessions from past World Glaucoma Congresses.
Click below on one of the congresses to watch these recorded sessions! In need of some inspiration where to start? Click below for the selections of the WGA Education Committee for WGC-2019.
Education Committee Highlights WGC-2019
Coming soon: we're currently migrating the recorded sessions of  WGC-2015 and WGC-2013 to our new platform. Stay tuned!
---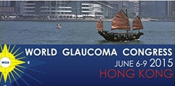 6th World Glaucoma Congress
(coming soon)
5th World Glaucoma Congress
(coming soon)