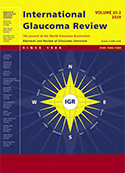 International Glaucoma Review
The uniqueness of IGR is its attempted completeness, its classification, and the Editor's Selection. It is the only journal that presents a three-monthly critical review of selected glaucoma literature. IGR is distributed free of charge to all members of affiliated Glaucoma Societies four times a year.
---
Journal of Glaucoma
JOG is currently the only scientific journal devoted to glaucoma that is both indexed and has an impact factor, giving the Journal a unique position in the glaucoma community.
---
WGA Consensus Series
The Glaucoma Consensus Initiative of the World Glaucoma Association is based on the idea that the collective wisdom of a group is better than the opinion of a single expert. Assembling a sufficiently large and sufficiently diverse group of glaucoma specialists and scientists provides recommendations and insights that are likely to be superior to those of a single clinician. These recommendations and insights form the foundation for the Glaucoma Consensus Reports.
---