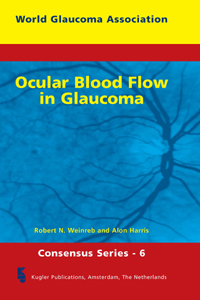 6th Consensus Meeting: Ocular Blood Flow in Glaucoma
Fort Lauderdale, FL, May 2, 2009
edited by Robert N. Weinreb and Alon Harris
2009. 3 tables and 27 figures of with 1 in full color. Hardbound.
ISBN-10: 90 62992 222 6.
ISBN-13: 978-90-6299-222-5
Published by: Kugler Publications.
Click here for more information on all publications in the Consensus series.
Summary Consensus Points
Anatomy and physiology
Anatomy of blood from the heart to the eye
Blood supply of the optic nerve
Overview of blood flow regulation in general
The mediators of autoregulation
The anatomic underpinning of ocular blood flow control
The ocular vasculature and its role in regulating blood flow to the optic
nerve and retina
Clinical measurement of ocular blood flow
Color Doppler imaging
Laser Doppler flowmetry and scanning laser flowmetry
Retinal vessel analyzer
Blue field entopic stimulation
Laser interferometric measurement of fundus pulsation
Dynamic contour tonometry and ocular pulse amplitude
Pulsatile ocular blood flow (POBF) analyzer
Laser speckle method (laser speckle flowgraphy)
Digital scanning laser ophthalmoscope angiography
Bi-directional laser Doppler velocimetry and simultaneous vessel densitometry
Doppler optical coherence tomography
Retinal oximetry
Clinical relevance of ocular blood flow (obf) measurements including effects of general medications
or specific glaucoma treatment
What is the evidence supporting a role for ocular blood flow in glaucoma patients?
Clinical evidence derived from different measurement parameters
Evidence from experimental animal studies
What disease mechanisms lead to impaired blood flow in glaucoma?
Ocular versus systemic causes
Systemic factors
Vascular dysregulation/perfusion instability
What is the impact of medication and other modifiable factors on ocular blood flow?
IOP-lowering topical medication
Systemic drugs
Ocular surgery, exercise
Does modulation of blood flow alter glaucoma progression?
Glaucoma and systemic vascular disease
Systemic disease and glaucoma patients
Diabetes
Cardiovascular diseases
Should measurements of ocular blood flow be implemented into clinical practice?
Interpreting clinical studies
What do we still need to know?
Ocular blood flow and visual function in glaucoma patients
Ocular perfusion pressure and prevalence and progression of glaucoma
Ocular blood flow and optic nerve head structure
The relationship between intraocular pressure and ocular blood flow
The relationship between cerebrospinal fluid pressure and glaucoma
Future research
Summary of consensus points
Index of authors