The ICO-World Glaucoma Association Three Month Fellowship Program is organized to help promising young ophthalmologists from developing countries improve their practical skills and broaden their perspectives of ophthalmology and glaucoma.
2017 marked the inaugural ICO-World Glaucoma Association Three-Month Fellowship Program. Fellows from Sub-Saharan Africa were sponsored by WGA to attend the World Glaucoma Congress in Helsinki, followed by training at a Finnish institute. The inaugural fellows are happy to share their experiences with you.
---
WGC-2021 Spotlight on Africa
---
Dr. Martin Olivier Tchouyo Tougnia, Cameroon
Host institute: Tampere University Hospital
It is with pleasure and gratitude that I give this testimony to the World Glaucoma Association, who awarded me a three month glaucoma fellowship at Tays Eye Centre of Tampere University Hospital in Finland.
My time at the Eye Centre has allowed me to fill many gaps in my knowledge and to learn new skills, including trabeculectomy and laser trabeculoplasty, which will help me improve the medical and surgical care of the glaucomatous patient in my country. I believe that my new understanding of the recommended guidelines for follow-up evaluations of glaucoma will prove particularly valuable.
I would like to take this opportunity to thank my supervisors, Professor Anja Tuulonen and Dr. Anu Vaajanen, for their unfailing support during my training. On behalf of all the patients who will benefit from my experience over the course of my career, I would also like to thank the generous sponsor for giving me this opportunity. Thank you for everything.
With mentor Dr. Anu Vaajanen, Glaucoma specialist
---
Dr. Farouk Garba, Nigeria
Host institute: Helsinki University Central Hospital
Experience so far:
There is no doubt this is life changing experience and that I wouldn't have imagine getting if not for organisations like the WGA. It is clear the mission of WGA is to combat blindness due to glaucoma which they plan to do their best and we are a testimony of that.
Knowledge: I have acquired new techniques of treating glaucoma both surgical and medical. I have witnessed the use gadgets I could only read about or see on YouTube videos.  A lot of questions which I have harboured for a while have been answered with evidenced based reports.
Confidence: I have become more confident because I have seen techniques done back home are also being done here and with similar results.
Networking: I have been exposed to a whole new world of glaucoma brothers and sisters which I am sure is a bond that will last for a lifetime and they will be ready to step in whenever needed.
Plans: So far, I plan to make changes in the way I practice, share knowledge acquired with colleagues back home and interact with my community for the better. I also hope to influence my institution to acquire more equipment for better service delivery to our patients and for research.
Recommendations: The WGA should look into hands-on instead of observer-ship training. Fellows will benefit more if they could learn surgical techniques and laser procedures and I believe they will impact more in the communities on their return.
WGA should also consider full glaucoma specialist training. As this will go a long way in training more glaucoma specialist.
From left to right: The Glaucoma team, Dr Janne Kyto, Dr Maria Lamberg, Dr Arvi Kuusniemi, Dr Nina Lindbohm, Dr Paivi Puska (Head of department- Glaucoma), Dr Farouk Garba (ICO/WGA fellow-Nigeria), Dr Eeva Ojanen, Dr Pasi Allinen, Dr Aapo Virtanen (resident), Dr Philip Phatudi (ICO/WGA fellow- South Africa), Dr Mari Mansikkamaki (resident) , Dr Jelena Kuznetsova, Dr Mika Harju (Head of glaucoma surgery).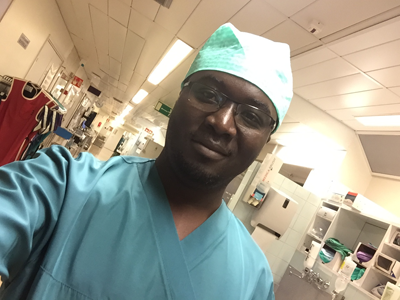 ---
Dr. Philip Phatudi, South Africa
Host institute: Helsinki University Central Hospital
My three months glaucoma fellowship was preceded by attending the 7
th
World Glaucoma Congress which was held from June 28- July 1 in Helsinki. This was perhaps the most ideal way to start the fellowship as I was able to meet some of the doctors that I would be working with, and it set a great academic tone to the rest of my fellowship. The congress itself was phenomenal and very well organized, and included great wet labs as well as a wide variety of current glaucoma related topics.
I had the privilege of working with a friendly and highly experienced team under the great leadership of Dr Paivi Puska (Glaucoma departmental Head). I was able to attend both the outpatient clinics as well as the theatres. Clinic work included various laser treatments such as SLT, Argon, Yag and diode lasers. I learnt a wide variety of surgical procedures and techniques, and these included amongst others deep sclerectomy, trabeculectomy with mmc, MIGS procedures, glaucoma drainage device implantation, and various ab interno trabeculectomy procedures. I also had exposure to special investigations such as spectral domain OCT (anterior and posterior segment), Visual fields, and disc photographs amongst others.
I was fortunate to have come during the summer months of Finland, and I was able to experience the more sunny and vibrant summer streets of Helsinki and its beautiful culture. The long sunny days with the sun setting beyond midnight in some of the days, helped me to roam the streets of Helsinki on foot or by bicycle, or using the excellent busses and trams.
My experience has certainly been a memorable one, both from an academic as well as a cultural perspective. I have certainly gained more confidence in my management of glaucoma patients and have acquired new skills. I look forward to putting what I have learnt into practice and sharing the knowledge and skills gained. I am truly grateful to the ICO, World Glaucoma Association, as well as the Helsinki University Central hospital (Meilahti Eye and Ear Hospital), for affording me this amazing opportunity.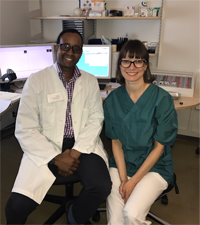 Mira Koskinen and myself in clinic (left).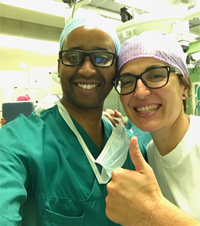 Marta Juan and myself in the OR (right)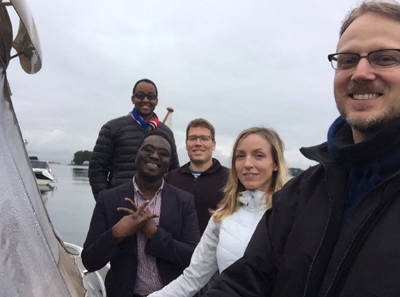 A memorable boat ride with Mika Harju, Nina Lindbohm, Janne Kyto and Farouk Garba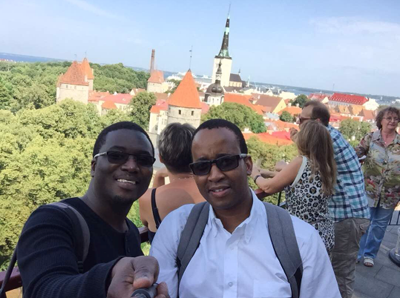 Some sightseeing with Farouk Garba in Estonia (Tallinn)