The ICO-World Glaucoma Association Three Month Fellowship Program is organized to help promising young ophthalmologists from developing countries improve their practical skills and broaden their perspectives of ophthalmology and glaucoma.
WGA remains committed to giving young ophthalmologists from Sub-Saharan Africa the opportunity to expand knowledge and skills in several subspecialties in ophthalmology. That is why we continued with the program for 2019: attendance of WGC-2019 in Melbourne, Australia, and 3 months of training at an Australian institute. We are proud to introduce the 2019 Fellows to you, together with a testimonial about their experience.
---
WGC-2021 Spotlight on Africa
---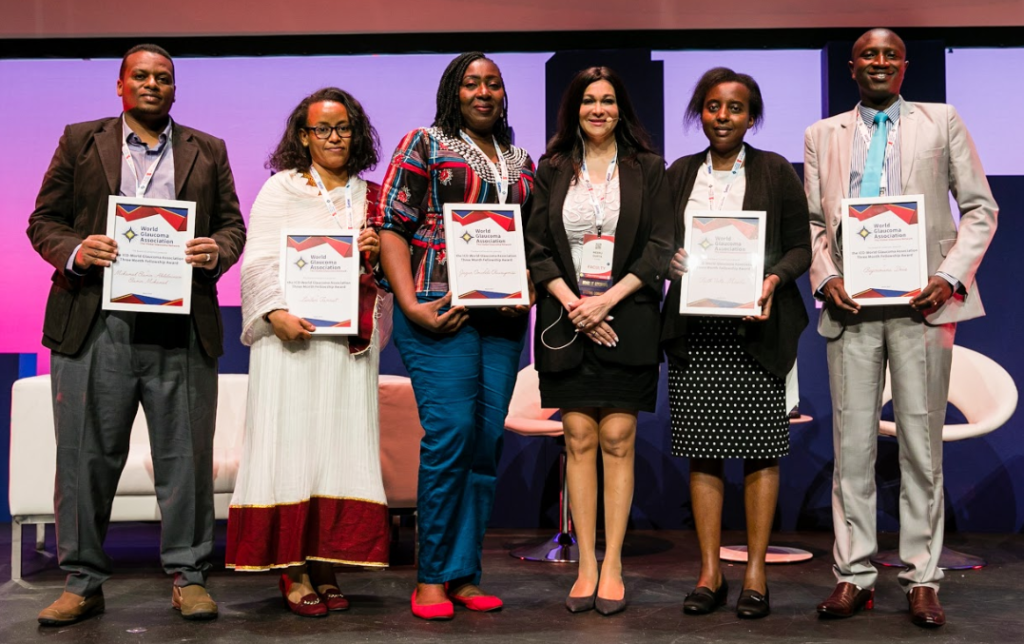 The 2019 Fellows at the Award Ceremony in Melbourne, during the WGC-2019 Opening Ceremony
From left to right: Mohamed Elamin Abdelmoneim Elamin Mohamed, Lemlem Tamrat, Jagun Omodele Oluwayemisi, Neeru Gupta (WGA Officer External Affairs), Faith Vata Masila and Bigirimana Deus
---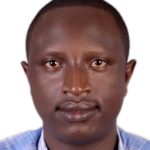 Dr Bigirimana Deus, Burundi
I was born on the 8th of August 1983, in a family of five children. After my secondary school, I got an Algerian scholarship to continue medical studies. From 2012 to March 2017, I was a resident in ophthalmology and a humanitarian in Doctors of the World France, Algeria mission. Since May 2017, I am working in Burundi at KIRA HOSPITAL and in the Burundi child EYE Health Tertiary Facility University Hospital of Kamenge. I am also the president of scientific committee in the Burundi ophthalmology society. I am married and father of a 2 year old son.
Host institute: Royal Victorian Eye and Ear Hospital, Melbourne
Supervisor: Dr Catherine Green
I'm writing this letter to acknowledge the World Glaucoma Association for offering me the ICO Fellowship which allowed me to improve my knowledge in the field of glaucoma.
Indeed, during the past three months at Royal Victorian Eye and Ear Hospital I have been taught by experienced and internationally trained glaucoma consultants during clinics and theatre sessions. I had the opportunity to observe how complex cases and complications are managed by both consultants and fellows. It showed the importance of regular follow-up for glaucoma patients, even in developed countries.
In order to put this knowledge into practice, we need our patients to be able to access affordable medications and SLT for mild glaucoma. To this end, we need to mobilize all potential partners who can support our goals. These partnerships can increase eyecare for African glaucoma patients. We need increased collaboration between ophthalmologists, ophthalmic clinical officers and nurses to succeed. We also need to involve other social partners such as religious leaders, community leaders, social media and broadcasting corporations.
I would like to thank you once again for this incredible opportunity. I am truly honored to have had such an enriching experience. I look forward to our continuing collaboration.
Host institute: Royal Victorian Eye and Ear Hospital, Melbourne
Supervisor: Dr Catherine Green
---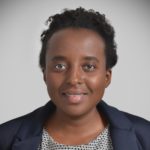 Dr Faith Vata Masila, Kenya
Dr Faith Vata Masila is a consultant ophthalmologist and eye unit lead at PCEA Kikuyu Hospital. She is a part-time lecturer in ophthalmology at Kenyatta University. She is a fellow of the College of Ophthalmology of Eastern, Central and Southern Africa (COECSA) and a member of the Glaucoma Society of Kenya. She has published in the Journal of Ophthalmology of Eastern, Central and Southern Africa (JOECSA). Her main interests are in glaucoma and neuro-ophthalmology. She lives with her family in Nairobi, Kenya. She is an avid lover of nature and enjoys meeting new people and visiting different places.
I undertook my 3-Month ICO-World Glaucoma Association Fellowship at Wesmead Hospital, Sydney, Australia. During the fellowship I joined the glaucoma team which was composed of my supervisors, Prof Andrew White, Prof Paul Healey and other glaucoma fellows. In the clinics I was exposed to ways of managing different types of glaucoma by medical and laser treatment. I also got to observe various glaucoma diagnostic techniques. In the theatres, I observed conventional glaucoma surgeries such as trabeculectomy, advanced glaucoma surgeries such as glaucoma drainage devices implantation and newer techniques such as minimally invasive glaucoma surgery. In addition, I got to observe combined cataract and glaucoma surgeries. I got an opportunity to carry out surgeries in the dry lab and this enabled me to learn some of the surgeries.
I also got to learn from clinical cases presented in grand rounds, audits in glaucoma and ophthalmology as well as research on operations of the eye unit. I learned about a telehealth model that was being used as an efficient way of managing glaucoma and ophthalmology patients with other eye care personnel at different locations. I had an opportunity to attend the 8th World Glaucoma Congress in Melbourne, Australia before the fellowship and learned from the presentations by different glaucoma specialists around the world. The wet labs at the conference provided an opportunity to learn the different glaucoma surgical techniques.
At the end of the fellowship we had a mini-symposium which brought together all the ICO-WGA fellows and glaucoma and ophthalmology colleagues from Melbourne and Sydney. We had a wet lab in which we learned new glaucoma surgeries. We had presentations and the fellows also made presentations. We had interactions concerning the practice of glaucoma and on how to strengthen glaucoma services in our countries.
We had plenty of social activities in Sydney and I had a chance to visit various attractions in the city and got to see special events that take place in the different seasons. I met and made new colleagues and friends in Australia and I look forward to a continued partnership in our careers. All in all, I had a fruitful time during the fellowship and with the knowledge and skills obtained, I look forward into translating what I have learned into better glaucoma care for our patients in my country and teaching others what I have learned.
In the future, I hope that the fellowships will provide full fellowships with more clinical and surgical hands-on training so as to have more ophthalmologists trained in glaucoma sub-specialist training.
Host institute: Westmead Hospital, Sydney
Supervisor: A/Prof Andrew White
left: In the operating theatre: Learning how a glaucoma device can be made for underprivileged areas using local materials
top right: In the wet lab. From left to right: ICO-WGA fellows; Dr Mohammed Elamin (Sudan), Dr Faith Masila(Kenya), Dr Lemlem Tamrat(Ethiopia), Dr Jagun Omodele(Nigeria). 2nd from right: supervisors Prof Colin Clement (Australia) and glaucoma fellow, Dr Zoya Rabkin Mainer (Israel).
bottom right: Enjoying a meal. From left to right: Dr Rohan Gupta(glaucoma fellow- Australia), visiting Professor Dr Shashi Kumar Bhasker (India), Professor Andrew White(Head of Department-Ophthalmology), Dr Phil Huang (glaucoma fellow-Singapore), Dr Faith Masila (ICO-WGA glaucoma fellow- Kenya).
---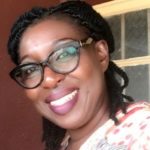 Dr Jagun Omodele Oluwayemisi, Nigeria
Dr Jagun Omodele Oluwayemisi is a Consultant Ophthalmologist and Lecturer at Babcock University Teaching Hospital, Ilishan-Remo, Ogun State Nigeria. Over the last 3 years, she has been involved in different levels of eye care and noticed a steady increase in the prevalence of Glaucoma with over 50 % of patients presenting with advance/end stage disease. She has also encouraged free basic eye screening/referrals for first degree relatives of indigent Glaucoma patients as part of several organized community medical outreaches so as to reduce blindness from Glaucoma. She loves inspirational music and is happily married with children.
The Observership Fellowship program started with the WGA Congress in Melbourne between 27th -30th March 2019, after which I traveled to Perth for the 3 months fellowship training at The Lion Eye Institute, Royal Perth Hospital and Charles Gairdner Children Hospital, Nedlands, Perth, under the supervision of Professor Bill Morgan, who was assisted by Dr Antonio Giubilato and Dr Anthony Clark.
I applied for this fellowship program with the hope of improving my surgical skills in Glaucoma especially in Trabeculectomy which is the Gold standard in Glaucoma surgery and the most cost-effective for patients of developing population and community when compared to other drainage surgeries that involves the purchase of a drainage device but unfortunately did not get to see any done.
During the period of my training, I was however able to interact with patients in the clinic via clerking, examination, discussion of investigations, diagnosis and treatment. I also observed several Glaucoma surgeries especially Xen implant surgeries, Molteno drainage device surgeries and a few Trabeculectomy revisions.
I also learned some clinic procedures like Bleb needling with 5 fluorouracil injection, which was a fairly new procedure to me and I found out that it could be repeated severally as long as the overlying conjunctiva was healthy to break encapsulated blebs and encourage drainage from the implanted microsurgical devices or in traditional trabeculectomy.
I was also opportune to attend 2 other conferences/Seminar during the period under review, The Royal Australian and New Zealand College of Ophthalmologist in Albany, Western Australia [ 17th -18th May 2019]  and WGA-ICO Fellows Grand Rounds at Sydney Eye Hospital, Sydney [ 14th -15th June 2019. Which were all very educative and innovative and I had a chance to present my fellowship experience at Sydney.
The conference at Albany was particularly memorable as " The future of Ophthalmology" in the light of Artificial Intelligence was the main highlight.
Even though my main target was not met, I am very grateful for the opportunity to have been chosen from Nigeria and for the exposure to some recent management tools and surgery in Glaucoma.
As a way forward for this program, I would like to suggest that the sponsors should look for ways to send Fellows to countries where they can have real HANDS-ON experience so that when they get back to their home country, they would be confident to replicate what they have learned as this would make them better SURGEONS.
I want to say, a big thank you to my supervising Consultants Prof. Bill Morgan and his colleagues Dr Antonio Giubilato and Dr Anthony Clark, for making out time to teach and educate me in modern Ophthalmology practices in Glaucoma.
I also thank the WGA for having Africa in mind and sponsoring this program.
Host institute: Lion's Eye Institute/Royal Perth, Perth
Supervisor: Prof Bill Morgan
from left to right: African fellows with Drs Simon Skalicky, Ridia Kim, Geoff Cohn, Anne Brooks and Mitchell Lawlor after the Sydney mini-symposium, Dr Jagun at the Toronga Zoological Park and Dr Jagun with Drs Anthony Clark, Prof Bill Morgan, Nurse Christine Darragh and Dr Jessica Ong at the Lions Eye Institute Theatre, Nedlands
---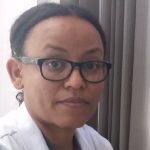 Dr Lemlem Tamrat, Ethiopia
I'm Lemlem Tamrat, a 37 years old mother of Two from Ethiopia. I graduated from Jimma University as an Ophthalmologist in January 2012 and I'm currently working as an Assistant Professor of Ophthalmology at Saint Paul's Hospital Mellinium Medical College as of March 2012 .There are few glaucomatologists for more than 100 million people of Ethiopia. It is my dream to build my career in this field of Ophthalmology to provide care for my patients and to share my knowledge for residents and medical students. In this regard I want to thank ICO and the World Glaucoma Association for giving me such an opportunity.
I am honored to write this letter of appreciation for all generous sponsors of this fellowship. First of all the fellowship started with very important and educational big meeting, World Glaucoma Congress meeting which was attended by ophthalmologists from all over the world. I am very thankful for organizers and sponsors of the meeting to let me to participate in such a wonderful gathering though I was disappointed by not seeing any doctor from my country.  After the meeting, I started the fellowship at Flinders University which was located in South Australia, Adelaide.  I was shadowing almost all clinics especially Glaucoma clinic which run three times a week with two Glaucomatologists called Dr.John Landers and Prof.Jamie Craig.  My host Professor is Professor Jamie Craig, based at Flinders eye center. At the different clinics, I have seen many interesting cases which I know them only in books. It was a great opportunity to discuss and share our experience about the different clinical cases at the clinics. I had many opportunities to attend surgeries, primarily Glaucoma surgeries which I found them almost similar with our Glaucoma surgery back at home. With the help of the local NGO, I was also able to attend Glaucoma clinic and Glaucoma surgery one full day in a week with Pof.Robert Casson and Dr.Anna Galanopoulos at Royal Adelaide Hospital. I was able to see different tricks of Glaucoma surgeries during my stay at Flinders eye center and Royal Adelaide Hospital.  I want to thank the manager of the organization, Dr.James Muecke and all the team members. I was able to attend and present cases at the teaching session which is usually held every Wednesday afternoons at Flinders eye center. I was also part of one of the social gatherings of female eye doctors of South Australia and at the meeting, I was able to get all female eye doctors and got a nice chance of sharing our experience.
We were at Sydney eye center for two days sponsored by Australian and New Zealand Glaucoma Society for mini conference with wet lab training. I am very happy to get such exposure. We had a tour to one of the famous Zoo called Taronga zoo. It was a wonderful time for us to get relaxed and have a little talk on the way. It will be good if such wet labs are available at respective training eye centers. I also advise if there is a supply of equipment and/or machine for the fellow to take so that when the trainee goes back home he/she can use the instrument/equipment to help patients.
Overall I want to thank all involved in this fellowship so that it went well with a very nice experience. Having such fellowship built my confidence of patient approach, evaluation and treatment. I will continue my training on Glaucoma (Hand-on training) in Nepal after one month and will be back home again to serve my community suffering from glaucoma and other eye diseases too. And I am hopeful that I continue my connection with my training center and all the doctors for further deep collaboration.
Host institute: Flinders Hospital, Adelaide
Supervisor: Prof Jamie Craig

left photo: training at Flinders medical center Adelaide with mentor Prof. Jamie Craig
middle photo, from left to right: Genevieve Oliver, Katie Billing, Aanchal Gupta, Lemlem Tigabu, Deepa Taranath, Melissa Shields, Jern Chen, Susie Lu, Anna Galanopoulos, Michelle Sun, Swati Sinkar
right photo: with Dr. Anna Galanopoulos
---
Dr Lemlem Tamrat
I am so honored to write this e-mail to the WGA. As you all know I am one of the five Fellows of the 2019 WGA Fellowship Program, held in Australia April to June 2019. I have been with Prof. Jamie Craig in Adelaide SA. After my Australia stay, I was able to get hands-on training on glaucoma at Tilganga Institute of Ophthalmology (TIO), Nepal for five more months. My training is still going on and I will be a certified glaucomatologist after two months.
At the end of our WGA Australia fellowship, we had a lovely two-day gathering at Sydney Eye Hospital where we had an opportunity to meet other mentors and guests. It is at that meeting that we met Dr. Geoffery, a very kind and humble man. Since then he was communicating with all of us (five Fellows from Africa) to help us to get a SLT machine.
Finally, I am the luckiest one to get the first Ellex Tango SLT machine, which arrived in Addis Ababa in the first week of January 2020. Dr. Geoff has been here in Ethiopia all the way from Australia to help us to assemble the machine at my hospital. I personally appreciate the time and patience that I saw from him to get this machine for us. Having SLT treatment available for our patients is a big step forward in managing glaucoma. As you know, glaucoma is becoming a very big challenge in Africa. It occurs relatively earlier, progresses more rapidly and blinds very young. Open angle glaucoma, especially psudoexfoliative glaucoma, is the most common glaucoma we see here in Ethiopia. There are lots of problems related to getting glaucoma drops as a treatment, poorly available and not affordable. Giving laser treatment with SLT will let our patients have good control of IOP with fewer medications and at a cheaper price.
I already started doing SLT treatment for my patients with the laser machine donated by Dr. Geoff and his colleagues. I myself and all my patients are very happy and excited to get this service in this blessed 2020. This SLT will help us to save the sight of very large numbers of glaucoma sufferers in our country in the coming years to come.
I want to thank WGA /ICO for sponsoring the fellowship training and I want to greatly appreciate Dr. Geoff and his colleagues for their time, patience and generosity. I hope the upcoming WGA glaucoma fellowship training in Japan will benefit more sub-Saharan African countries so that we all can tackle blindness from glaucoma in the region.
Dr Lemlem TamratA SLT in Ethiopia
---
Dr Mohamed Elamin Abdelmoneim Elamin Mohamed, Sudan
Dr Elamin Mohamed Graduated from the University of Khartoum, Faculty of Medicine and completed a Residency in Ophthalmology at Board Certified Hospitals of Sudan Medical Specialization Board. He works as an ophthalmologist at Makkah Eye Complex, Department of Glaucoma, Khartoum, Sudan. He also participated in the Eradication of Trachoma Program in Sudan. He is currently involved in teaching Ophthalmology Registrars and Ophthalmology Technicians and is actively participating in Free Cataract Surgery Camps in Sudan and Africa.
About my experience at the Sydney Eye Hospital (SEH): it was great experience. I learned a lot, such as how to diagnose glaucoma, optic disc assessment, interpretation of perimetry and use of forum to observe progression, use of OCT and Heidelberg OCT. I also learned about medical and surgical management of glaucoma and the use of SLT for glaucoma. With training in dry labs as well as wet labs, I learned to do procedures like istent, Hydrus, Xen, itrack, Baerveldt's tube, deep sclerotomy and trabeculectomy.
I would like to thank all my supervisors and all the glaucoma consultants I worked with at SEH. They were very helpful, kind, nice and lovely people.
Host institute: Sydney Eye Hospital, Sydney
Supervisor: Prof Ivan Goldberg
from left to right: at the Wall of Fame at the World Glaucoma Congress in Melbourne, training at the Sydney Eye Hospital (SEH) and with supervisor Prof Ivan Goldberg